Connect Multiple Offices with Smart Office Technology
For decades, businesses with multiple locations faced the challenge of finding better ways to connect their offices so that processes run seamlessly. Smart office technology plays a large role in this seamless connectivity. Once the pandemic hit and ushered in lockdown protocols, the need for connection between multiple locations increased since many employees were now working from home.
Today, we've seen the benefits of working from home and many businesses are choosing to be entirely remote or work on a hybrid system. Given that remote work is here to stay, it's time to take a close look at what smart office technology can do today to connect multiple locations.
Streamlining Multi-Location Systems
Organizations with multi-locations may struggle with a lack of standard operating procedures (SOPs) between locations. Before any smart technology is implemented, it's a good idea to create SOPs all locations can follow. This way, locations can work seamlessly, both independently and together, if any employees need to collaborate. 
SOPs will be necessary for smart technology that's put into place as well. This way, leaders can confirm that employees are using the technology effectively and appropriately. Another benefit of SOPs is that they are useful when training new hires. 
The industry the business is in, the size of the business, and the budget will determine what technology to implement first. Businesses also need to consider what areas of the company they would like to focus on. There are a lot of factors that come into play when implementing smart office technology. Before you begin your research, investigate any issues that result from a disconnection between locations.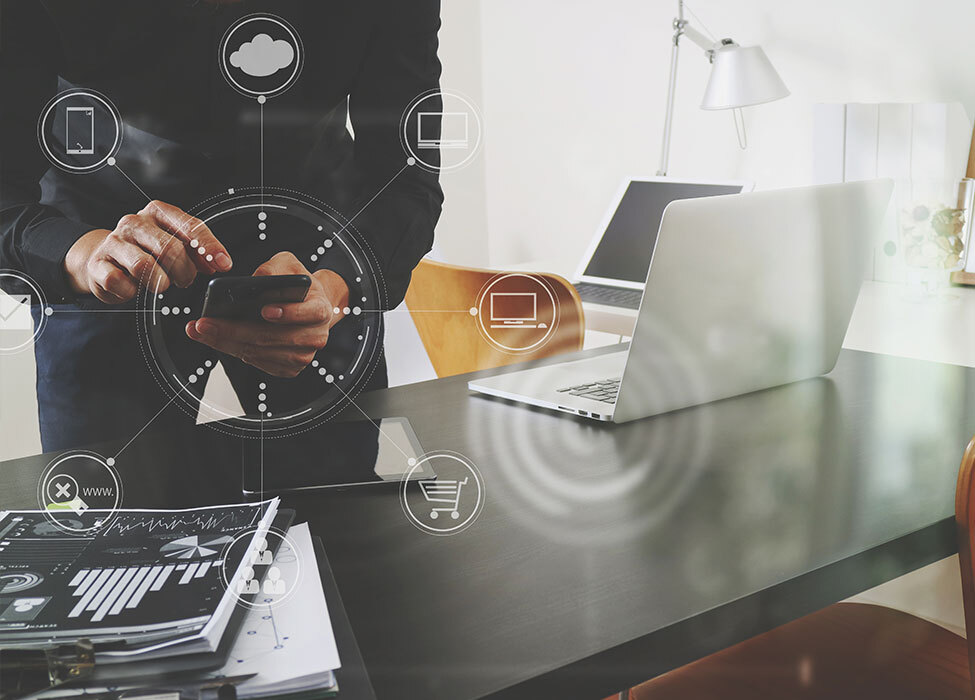 Connecting with Smart Office Technology
Once smart office technology is put into place, companies can experience continuity across the business regardless of location, providing consistency for both employees and customers. With smart office technology, workflows can be more easily streamlined and optimized, resulting in increased productivity. 
Here are a few examples of smart office technology you can implement into your business:
Cloud-Based Technology
Many businesses have implemented cloud-based technology, whether it's through Google Drive, a cloud-based telephone system, or an e-signature platform like Exela's DrySign. 85% of enterprise businesses are expected to adopt a cloud-first approach by 2025. With many cloud-based options being extremely cost-effective, it's no surprise that cloud technology is rapidly being executed in businesses.
Cloud-based technology is becoming a must-have in business due to its many applications and the fact that it allows for easy collaboration and sharing. Global companies now have the ability to share documents, standard procedures, and corporate information across the world with their employees.
Virtual Private Network (VPN)
Working effectively in different locations can be challenging when each location has its own network. This is where virtual private networks, or VPNs, come into play. VPNs create a secure and private network for employees to easily share data. On top of that, VPNs transfer information quickly and are cost-effective.
Shipping and Receiving Services
Another great way for business locations to connect is through smart office technology that streamlines the shipping and receiving service. Confusion can occur with shipments when there are multiple buildings that require mail and package delivery, creating headaches for business leaders and employees. With solutions like ExelaShip and ExelaTrack, companies have access to real-time status information about packages being delivered, packages that were received, and packages that are being shipped. With ExelaTrack, once a package is received, it can be tracked until it gets to the recipient, reducing lost packages inside the office.
Another great feature of ExelaTrack is the ability to track inventory between locations. If you find that one location is out of stock of a product but the other location has plenty, companies can then consolidate between the locations rather than purchasing new and possibly unnecessary inventory.
Connecting the Virtual with the Onsite
Some businesses may find that their onsite locations are streamlined well, but workflows falter with offsite employees. For example, companies may be struggling to determine how to deliver mail to remote or hybrid employees, transfer important physical documents, or exchange items with coworkers. With many businesses looking for solutions to promote remote working, it's important to determine how remote workers can have easy access to their mail and other deliverables.
There are two technologies that can help with this particular problem: smart lockers and a digital mailroom.
Smart Lockers
A smart locker solution like Exela's Intelligent Lockers allows workers to easily receive packages, store their belongings, and exchange important documents and items. This solution is especially great for any office that employs a hoteling system or for offices that have hybrid workers. Smart lockers provide a clear and easy way for employees to access items they need when they're able to come into the office.
Digital Mailroom
Exela's Digital Mailroom solution digitizes all incoming mail and other documents, uploading them to a cloud and making sure the correct recipient receives them. Handling employees' mail, especially that of remote workers, can be extremely challenging; this is where smart office technology really steps in. A digital mailroom will not only help remote workers but also onsite workers as coworkers can easily share mail and collaborate on documents digitally with other coworkers.
Conclusion
There are many smart office technologies that exist to help businesses connect multiple locations and to connect virtual and onsite working environments. We no longer live in a world where we need to mail every important piece of document from one location to another. If you're finding it difficult to determine the right technology for your business, contact us at Exela and we'll be happy to help your business with its digital transformation strategy.